Dr Guillaume Lemierre, a plastic surgeon in London and Bordeaux
Why choose Dr Lemierre?
---
I offer you complete, adapted and personalized care combining plastic surgery and aesthetic medicine if need be.
As a member of the main French and English plastic and aesthetic surgery societies, I am led to continuously train to new plastic surgery and anesthetic techniques.
Eventually, I will operate on you with maximum security conditions in modern centers and clinics meeting all the security criteria among the most renown of London and Bordeaux.
... More beautiful and natural, JUST THE BEST VERSION OF YOURSELF ...
My mission:
---
Every day, for every act, I am strongly committed to contributing to a better balance between body and mind with my expertise, my skills, and a constant pursuit of excellence.
My values:
---
The expertise, skills and involvement at the service of the right balance mind-body.
My ambition:
---
To reveal beauty.
Your gain:
---
Improving your physical image in order to feel better, increasing self-confidence, glowing among your friends and family and give your life a new dynamic benefiting from the best medicines and plastic surgeries with proved natural results.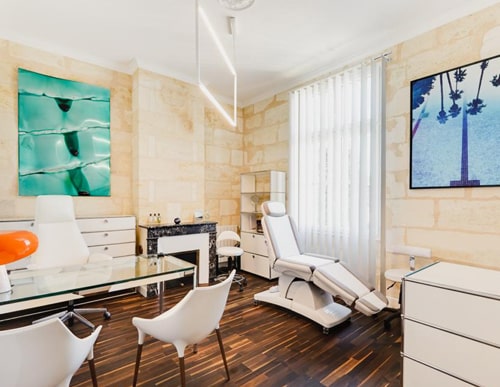 The aesthetic house
---
Why choose Bordeaux?
Because you have chosen to be operated on by a highly-trained plastic surgeon, in a certified aesthetic surgery clinic, providing you with specialized care with comfort and maximum security conditions.
Because you wish to pair your surgery with the discovery of Bordeaux, and our region with the Bassin d'Arcachon, Cap Ferret and the grand vineyards of Bordeaux. We remain at your disposal to plan your trip by train or plane.
Focus on certain acts